Something weird is happening, guys. Nebraska is considering legalizing medical marijuana.
What's going on?
Nebraskan politicians are gearing up to push for the good ol' legalization of miss sweet Mary Jane. There are currently 28 states that allow medical marijuana in some form and now we're hoping that Nebraska will join the movement.
State Senator, Anna Wishart, said she will introduce a new comprehensive medical marijuana bill. The proposal is still in process, but she states it will be similar to the previous that fell behind 3 votes from advancing.
So close! But yet so far.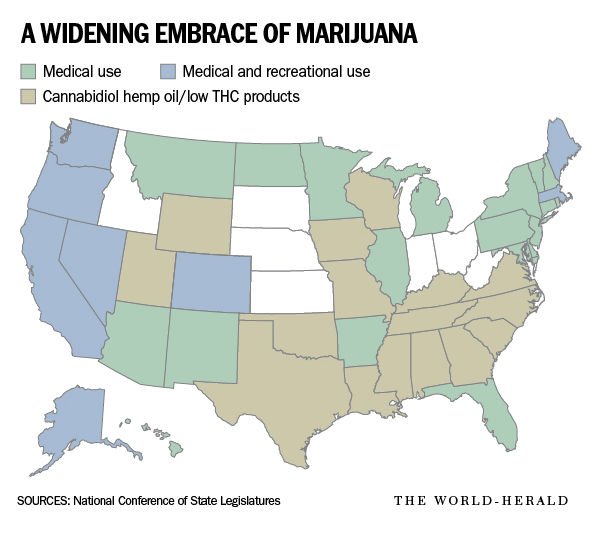 ---
---
Will it pass this time?
Current advocates are not very hopeful. They support it 100%, but they know it is more than likely to be filibustered in the session and basically guaranteed that Governor Pete Ricketts would veto the bill. It's imperative that we let our representative know what we want. We want representation for the legalization of marijuana.
Shelley Gillen, a major marijuana activist said,
"I'm putting more faith in a ballot initiative than a legislative bill."
Shelley has been working for a medical marijuana law – motivated by her 14-year-old son, Will, who suffers dozens of seizures a day. He is one of the many people suffering from medical issues alleviated by the use of marijuana.
---
---
What is the opposition thinking?
Senator Matt Williams, who led the opposition, hasn't changed his views.
"It sends our state in the wrong direction"
He is mostly concerned about it getting into the hands of children. Even though, this study in Colorado shows that marijuana use amongst teenagers remains unchanged when it is legalized. The Colorado health department stated here
---
---
"This survey shows marijuana use has not increased since legalization, with four of five high school students continuing to say they don't use marijuana, even occasionally"
What's going to happen?
We can't say for sure, but we can only hope that conservative supporters of this proposal stand together to break a filibuster. It will be a tough fight. But to be fair, the legalization of cannabis has always been tough fight and we are always making progress.
Source (Omaha)
---
---