If you can't find what to surprise your especially stoney friends and family with, look no further. These cannabis-inspired gifts are all under $100, made with love and passion by a number of cannabis enthusiasts. Support these small businesses and give gifts with meaning.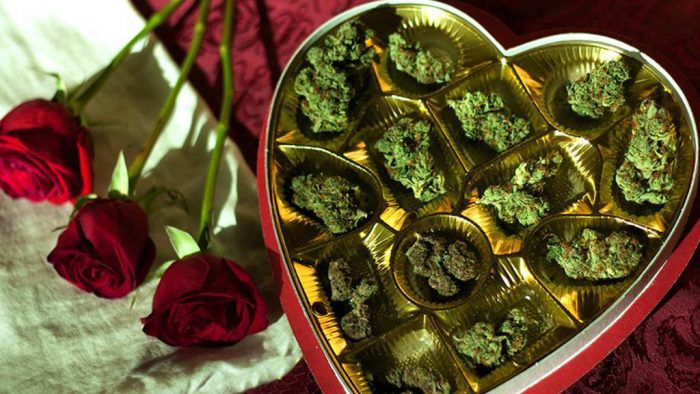 Everyone knows a stoney Star Wars fan
These glass stash jars are beautifully frosted with your favorite Star Wars character etched into the side. Star Wars is breaking the box office and you are sure to know a fanatic and cannabis enthusiast that would love this. Handcrafted with love, this airtight food grade stash jar will not leave you disappointed. Available on Etsy
---
---
CBD Infused Goodie Gift Basket Handcrafted In Colorado
Mandasmiracles is a locally owned small business in Denver, CO that produces a number of treats and bath time goodies than are infused with high quality CBD oil. Mandasmiracles also offer a variety of items that you can choose to be crafted with or without CBD. Many satisfied customers and testimonials keep this growing business going! Here in Colorado, we love local. A gift basket from Mandasmiracles is sure to satisfy, with the care and preparation that go into creating these delectable treats. Available here
The Clumsy Stoner Solution
These silicone dab rigs, bongs, and pipes will not break your spirit or the bank. These are great for the clumsy stoner you know and adore. While giving you the privacy to shop online at home, these silicone devices are reliable and sure to save the day and your wallet. An extensive variety of products along with other everyday useful items for the stoner in your life. Available here
---
---
The Discrete On The Go Stoner
The Skunk Sidekick Smell Proof Case with combination lock is the perfect gift for someone on the go who also loves to be discrete and keep their stash safe and sound. Several compartments and spaces make it easy to keep cannabis childproof and smell proof on the go! A variety of color options will make it easy to personalize this gift for anyone without breaking the bank. Available on Amazon:
Still Can't Decide? Go With A Gift Card
StonerDays is my personal favorite when it comes to cannabis apparel and accessories. Not sure what to get your favorite stoner? With the freedom of a gift card from StonerDays they can choose their favorite item(s). Unique dabbers, dab mats, coffee mugs, keychains, and hats are some of the extras available to order. Give the gift of choice and watch them drool over the options available from StonerDays. Available here:
---
---
There you have it, your go to gift guide for that stoney person in your life. All of these gifts are made in the USA and ship to all 50 states. Reasonably priced cannabis-inspired products, top notch quality and customer service are just a few perks to gifting these great items. You will leave a lasting smile that is sure to be remembered.
---
---