QUICK SUMMARY
Ontario, Canada has released their plan to legalize recreational cannabis across the province.
The core components of this plan include:
A minimum age of 19 to consume cannabis (similar to alcohol laws)

Legalizing the online distribution of cannabis in Ontario

A plan to open up to 150 stores by 2020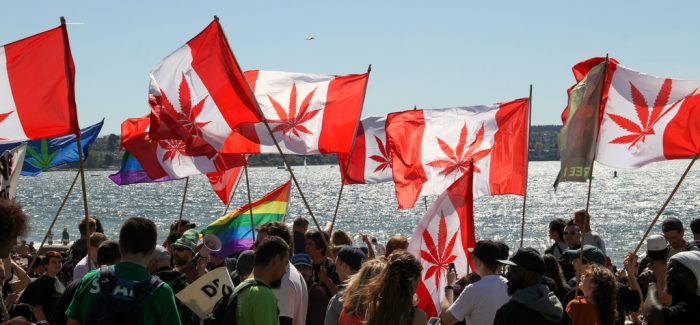 LET'S DIVE DEEPER
This will make Ontario the first province in Canada to take bold step forward in legalizing recreational use and setting the stage for the rest of the country, and the world.
They plan to have the Liquor Control Board of Ontario (LCBO) regulate and oversee any retail cannabis – in-store and online. This means that they are positioning cannabis and alcohol as equals, selling it in the same space as each other.
Just like you are not allowed to drink alcohol in public, you will still not be a allowed to smoke cannabis in public. This will restrict its use to your private residence.
This will also prohibit anyone that is under the age of 19 from consuming or possessing cannabis. Ontario police will have the power to confiscate cannabis from minors.
---
---
The Attorney General Yasir Naqvi stated:
"[Our main goal will be] stopping the sale of illegal, unregulated and unsafe cannabis."
Meaning that if you own an illegal cannabis shop in Ontario, that the local law enforcement will be cracking down and doing everything in their power to stop these shops from operating.
"If you operate one of these facilities, consider yourself on notice."
Retail and Online Sales
Canada is looking to enact safe consumption and distribute cannabis by knowledgeable professionals who have the consumers best interest in mind.
Charles Sousa, Finance Minister states:
"Trained and knowledgeable staff will sell products in a safe and socially responsible manner to restrict access for minors and give consumers the information they need"
All stores will operate under the same pretenses as any liquor store, plus additional requirements to abide by due to it being cannabis. For example:
All cannabis product can not be visible to any minors and you must create a behind-the-counter environment – similar to tobacco.

You are not allowed to engage in any self-service

All staff dealing cannabis are required to go through a specific training course
In regards to online sales, Ontario plans to create a safe and secure delivery network across the province. This includes ID checks and requiring a signature when the package is delivered.
---
---
July 2018 is the Deadline
The piece of legislation that was introduced to the House of Commons plans to put all of these regulations in place by July 2018.
The legislation lays the basic framework of recreational cannabis sells. This leaves a lot of unanswered questions to be determined by the province, such as the logistics of how it will be sold and taxed.
Even the Prime Minister of Canada, Justin Trudeau, says that they intend to stay on course to have recreational cannabis available by the deadline.
The Criticism in Ontario
Their overall reason for legalizing cannabis is to combat the illegal drug market, but many are saying that limiting the number of stores is not the best course of action. Mike Schreiner, leader of the Green Party of Ontario is one of those people, stating:
---
---
"Having limited retail outlets across Ontario for legal marijuana will do virtually nothing to combat the huge illegal market."
Two notable cannabis activists are also concerned with this plan. They tweeted:
For legalization to work, there needs to be a cannabis retail outlet in every tiny rural community in Canada, or black market will continue.

— Marijuana Laws (@CannabisExperts) September 8, 2017
Others are saying that this is just a way for people who used to oppose cannabis use to profit from the legalization. I personally think that if you are going to legalize an industry, enact a free market to play within the industry. 
The very idea of a government holding a monopoly over the cannabis industry just sounds like a recipe for disaster.
Camille Quenneville, CEO of the Canadian Mental Health Association, wants to see the revenue generated from cannabis to be allocated towards something beneficial. She states:
"We've recommended in a recent submission that all revenue should fund mental health and addiction services in Ontario because there is a correlation between cannabis consumption and mental health and additional issues."
There seems to be a ton of criticism over the plan to legalize recreational cannabis, but honestly, it's not a complete disaster. You have one of the largest countries in the world taking a stance on recreational cannabis use and setting an example for countries looking to legalize cannabis in the future.
---
---