The holy grail of cannabis, kief, can easily be obtained by simply placing a coin in your grinder.
WHAT IS KIEF
Kief is the most sought after substance by every stoner. The loose trichomes on cannabis are sifted through the mesh screen of your three-chamber grinder. Kief then accumulates in the bottom chamber of your grinder for you to scoop out and enjoy. BUT you are not be getting as much as you should.
WHAT DO I DO WITH KIEF
There are a wide variety of uses, from either sprinkling it on whatever you are smoking, to playing a crucial part in making moon rocks, to even flat-out smoking an entire kief bowl. It is a lot more potent (gram for gram) compared to cannabis that you are smoking.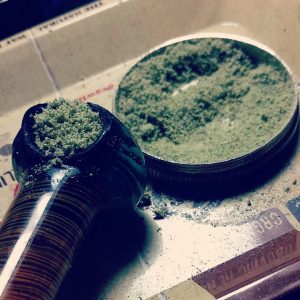 ---
---
HOW DO I GET MORE
Open up the part of your grinder where the cannabis collects after grinding and drop a coin into the chamber. This coin acts as a force that pushes more of the loose trichomes into the kief chamber. After grinding your cannabis, shake your grinder for thirty (30) seconds.
BUT I WANT EVEN MORE!
Woah, slow down bro.
---
---
SERIOUSLY, HOW DO I GET MORE?
If you want more kief, then you are going to want to get your cannabis into an colder environment. This results in the loosening of the cannabis so you can expect more to be in your kief chamber.
Simple tip – place your unground bud in the freezer for 5 minutes then proceed to grind it. This will result in the optimal amount of kief being released and stored safe and sound in your trusty kief chamber.
---
---
If you're still unsatisfied with the ungodly amounts of kief in your possession now, try and find some strains that have a high trichome count to guaranteed a greater yield when you are grinding your cannabis.
---
---