Indica strains are perfect cannabis strains for things such as anxiety, pain and insomnia. Check out these top 7 indica-dominant strains and their effects!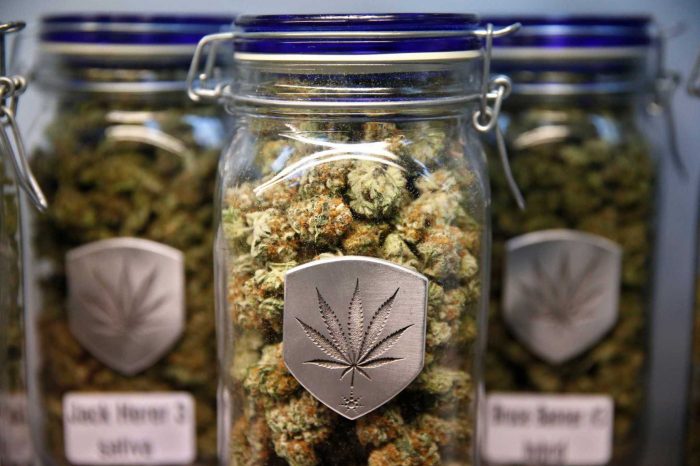 1. Granddaddy Purple
First on our list is the most famous indica that has been around for about 15 years: Granddaddy Purple, or GDP. Presented in the year 2003 by Ken Estes, Granddaddy Purple is a famous indica-heavy cross between Big Bud Purple and Urkle. This prime California pure indica strain inherits a multifaceted berry and grape aroma from its genetics due to the Purple Urkle, while Big Bud passes on its king-size yet compact bud structure. Granddaddy Purple flowers bloom in shades of heavy indigo with a backdrop of frostiness, covered in white crystal resin. Like most of the pure indica strains, Granddaddy Purple is typically toked and digested to treat pain, muscle spasms, stress, insomnia, and loss of appetite.
---
---
2. Bubba Kush
Bubba Kush is an indica strain that has increased in popularity in the U.S. and overseas for its heavy sedative effects. Sugary hashish flavors with mild tones of coffee and chocolate come through on the exhale, covering the palate as the commanding relaxation begins. From top to bottom, muscles will begin to ease with heaviness as the dreamy euphoria mantles the mind, obliterating stress, while pressing happy moods. Bubba Kush exhibits a distinguishing, immense bud structure with hues that range from pale purple to hunter green.
3. God's Gift
God's Gift is a pure indica strain that gained a slew of popularity in California dispensaries around 2005. God's Gift contains grape, citrus, and hash-like flavors. In regard to genetics, the parents of God's Gift are Granddaddy Purple and OG Kush. Being a cross between the famous Granddaddy Purple and notorious OG Kush, the yielding result was destined to be that of a gift from the one's above. God's Gift shares the effects that most pure indica strains have. This helps best with insomnia, anxiety, and loss of appetite.
4. White Rhino
White Rhino is a hybrid of White Widow and an unidentified North American indica strain, creating a shaggy and stout plant. The buds give off a robust and heady high. The plant's ancestry hails from Brazil, Afghanistan and India. White Rhino is one of the greatest types of cannabis for medicinal use since it has such a high THC content.
---
---
5. Kryptonite
Who knew that Clark Kent's (a.k.a. Superman) weakness was an indica strain? No wonder Superman is such a boy scout! Kryptonite is an enigmatic clone-only indica strain, Kryptonite is whispered to be a fusion between Mendocino Purples and Killer Queen created by breeders at the San Francisco Bay Area's well-known Oaksterdam University. Kryptonite is known to produce THC levels up to a stoned 25%! Kryptonite is an indica-dominant strain is a great choice for those in search of something to treat serious pain without the overtiredness associated with some pure indicas. Kryptonite features a musty and tropical fruit smell along with a sweet, sugary zest similar to Cinderella 99, the great-grandparent of Kryptonite.
6. Death Star OG
Death Star OG is the powerful crossing of Sensi Star and Sour Diesel while having the shared sativa and indica effects of its parents. Death Star OG has a fused taste that combines skunky, sweet, and gassy aromas into a very strong fragrance that isn't easy to conceal. This indica strain may not have the ability to destroy planets like films would make us believe, but it does have quite the strong buzz. Effects can be delayed, but once they hit, Death Star OG takes away all cares and swaps them with a state of leisure and euphoria. Death Star OG is just as great for daytime use as well as nighttime.
---
---
7. Lavender Kush
Constructed from a few strains around the world, Lavender Kush (a product of Soma Seeds), has its roots from Afghani Hawaiian, Super Skunk and Big Skunk Korean. Lavender, sometimes referred to as Lavender Kush, has compact buds that give off a floral and peppery aroma. It has a heavy purple coloration on the ends of its leaves –similar to real-life lavender.
---
---