Mac 'n Cheese is the ultimate comfort food. I mean, who wouldn't say yes to that cheesy goodness! However, when combined with cannabutter, it becomes the ultimate food of the gods. If you think your grandma's Mac 'n Cheese was bomb, wait until you taste this amazing recipe from the chefs at The Cannabist.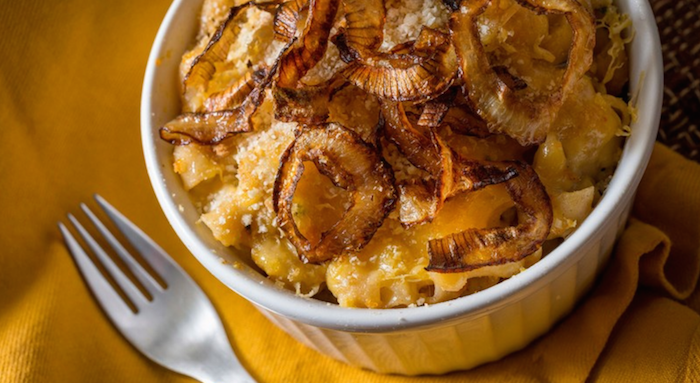 Smokin' Mac 'n Cheese
Serves 4-6
½ pound elbow macaroni or shells
1 tablespoon canola oil
1 teaspoon salt
For cheese sauce
5 tablespoons cannabutter
---
---
½ cup all-purpose flour
2½ to 3 cups milk, warm
4 ounces smoked mozzarella, grated (1 cup)
8 ounces medium cheddar, grated (2 cups)
1 teaspoon kosher salt
1 teaspoon smoked paprika
½ teaspoon freshly ground black pepper
½ teaspoon ground nutmeg
---
---
1 cup breadcrumbs
1 tablespoon canola oil, (using canna-oil is optional)
2 ounces sharp cheddar, grated (1/2 cup)
For onion rings
1 cup canola oil
1 small onion, peeled and thinly sliced
---
Directions
---
---
Heat oven to 375 degrees.
1. Fill a large pot with water, oil and salt. Bring to boil, add the macaroni and cook according to the directions on the package. Drain well.
2. In a small saucepan melt the cannabutter. Add the flour and cook, whisking constantly, for five minutes. Add the warm milk and cook for a minute or two more, until thickened and smooth. Add the cheese, salt, paprika, pepper and nutmeg. Add the cooked macaroni and stir well. Pour into 6-8 buttered ramekins.
3. In a small bowl combine the canola oil with the breadcrumbs and sharp cheddar. Sprinkle on top of the filled ramekins. Bake for 25-35 minutes or until the sauce is bubbly and the macaroni is browned on the top.
4. In a medium saucepan, heat the oil. When hot add the onion rings and cook until golden brown, 4-5 minutes. Drain on paper towels or clean dishtowel. Place on top of the ramekins and serve.
---
---