Most recently the Veterans Affairs Department gave their physicians the freedom to discuss cannabis use, but not formally recommend a prescription. If you are in a state with a medical cannabis and are experiencing PTSD it is always best to be honest with your VA doctor and discuss potential options. Over half of US Veterans are experiencing some form of mental illness and can't access medical cannabis.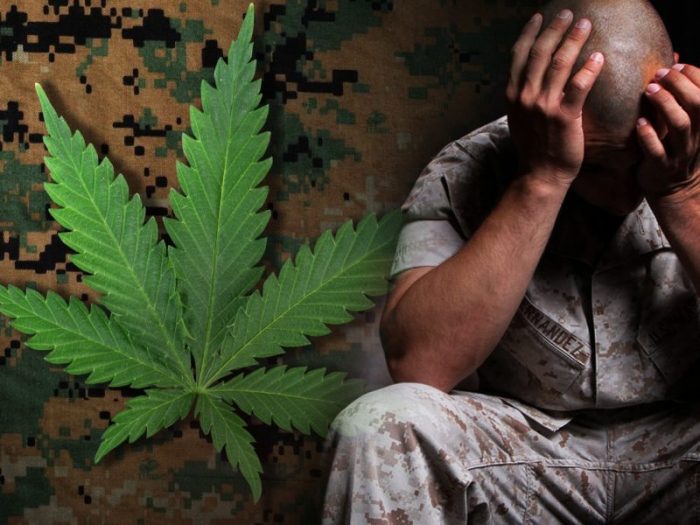 The Land Of The Free And The Home Of PTSD
The Veterans Affairs Department is a federally funded program which may explain some of the conflict that prevents VA physicians from formally recommending a medical cannabis prescription. Recently, physicians have been given the freedom to discuss cannabis use or the potential benefits of obtaining a medical cannabis recommendation.
---
---
However, due to an internal policy with the Veterans Affairs Department, it is prohibited for a VA physician to formally recommend a medical cannabis prescription. This policy leaves veterans searching for an alternative medicine doctor of which they have to pay out of pocket to potentially obtain this recommendation. While cannabis is still illegal at a federal level, it is not against any federal law or policy for VA physicians to formally recommend a medical cannabis card. It is only the internal VA policy that prevents these recommendations for our nations heroes.
The good news is, using cannabis will not disqualify you from VA services or benefits and now you can be more open with your VA doc when it comes to your right to choose cannabis.
How Cannabis Has Conquered PTSD Symptoms
PTSD or Post-Traumatic Stress Disorder is a debilitating anxiety condition caused by disturbing episodes in a persons life such as military combat or sexual assault. We can blame the brain for persistent symptoms due to the change in chemistry by the the trauma, when adrenaline and stress hormones are hyper-responsive. While the symptoms caused by PTSD cannot be completely undone, Cannabis has shown a propensity to assist in treating them. Cannabis has been proven to reduce the severity of PTSD symptoms dramatically.
---
---
While experiencing PTSD, CB-1 receptors become endocannabinoid deficient statistically more often than people that are not devastated by this condition. When these receptor sites become cannabinoid barren, the symptoms can be extreme such as flashbacks, unbearable anxiety, and extreme fear. The average CB-1 receptor can help with forgetting a traumatic event and pushing painful memories aside. Cannabis can assist this receptor deficiency with the amount of cannabinoids it contains and tell PTSD to hit the road, Jack.
How Many US Veterans Are Plagued With PTSD?
It is estimated by the Veterans Affairs Department that over thirty percent of veterans are experiencing some form of PTSD, another twenty percent are dealing with mental illnesses. Each day, over twenty veterans commit suicide, while another forty-five percent suffer from substance abuse and homelessness. There are several programs that assist vets with the adverse effects of war. You can donate to these efforts here.
---
---
Cannabis has been proven to help our veterans and others experiencing PTSD. Although the Veterans Affairs Department will not be able to write you a recommendation for medical cannabis, you can now be at ease when talking to your VA physician about your cannabis use. While this isn't a monumental change, it could cut out a lot of the stigma and bring more facts to light regarding the benefits of cannabis and PTSD.
---
---